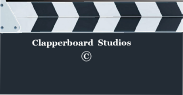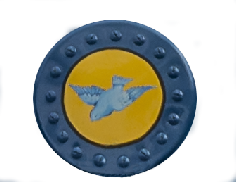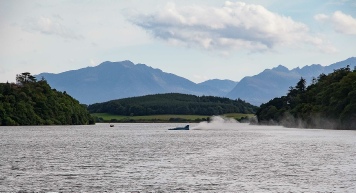 Summer 2018. We have a new assignment,
Go to Isle of Bute, Scotland and see the restored Donald Campbell's Bluebird.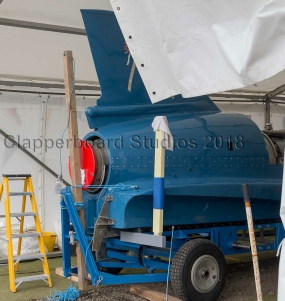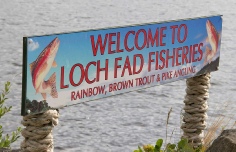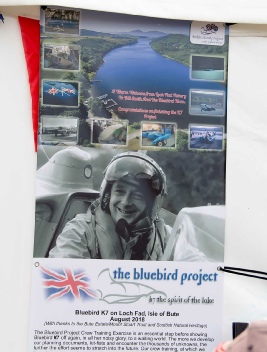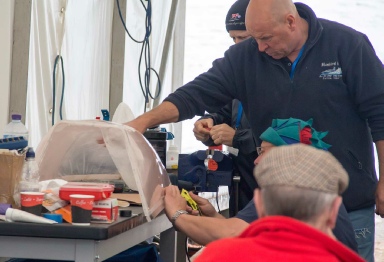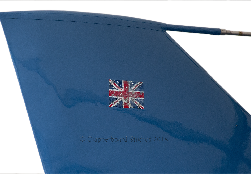 Tuesday 7th August
Bill and the team preparing the new canopy.
The other came off the day before and is now lost to the loch.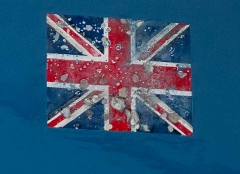 A tantalising glimpse of Bluebirds tail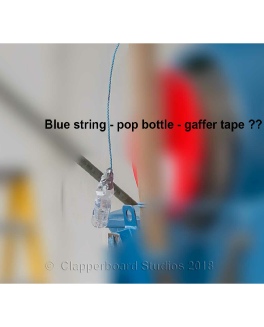 I love their attention to detail, even the string is blue.
But what is the pop bottle for ??
More detail, the flag on the tail has not been touched. It's the same as when it came up from the bottom of Lake Coniston. 140 foot down.
We arrive at Loch Fad, and yes the lady was correct, Bill and co. were busy preparing a new canopy. Would Bluebird take to the water today, we didn't know. We just stood there watching the team work their magic.
We soaked up the atmosphere.
Poster on the side of the tent.
Black and white photo of Donald Campbell.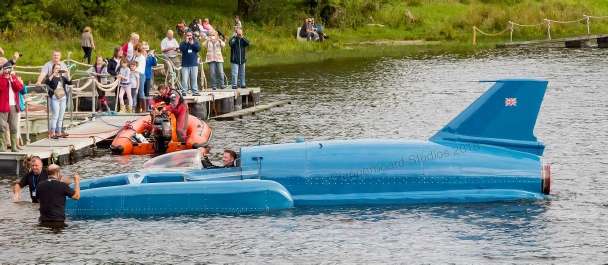 She's floated clear of the trailer and it's THUMBS UP.
The safety boat gets ready to go to the far end of the loch.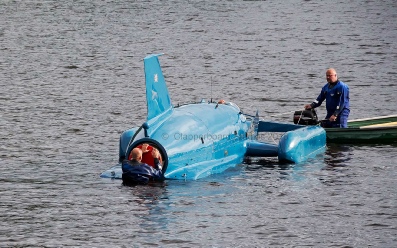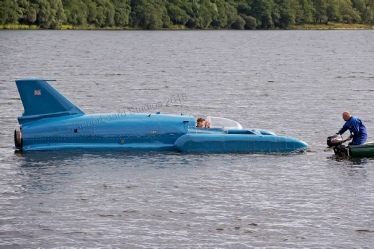 Diver removes engine cover.
Stew going through his check list.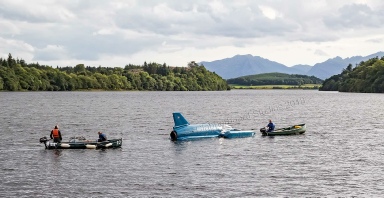 Boat arrives with the air cylinders. This is the all important starter kit. No electronic ignition, this old girl is over 50 years old, and still looks impressive.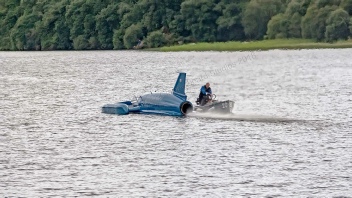 We have ignition, she's good to go.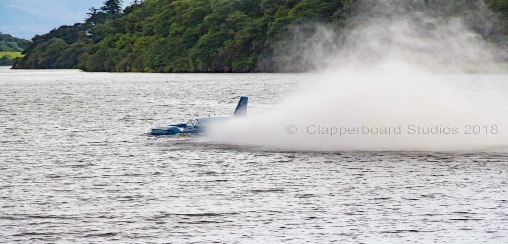 She roars off down the loch in a cloud of spray.
We had nothing to do with this project we are merely bystanders. Some of us are old enough to remember the report on tv back in 1967. ( In black and white on the telly )
We would love to be able to rewrite history, but we can't. But we are here now watching history being made, BLUEBIRD is alive once more.
The hairs stand up on the back of my neck.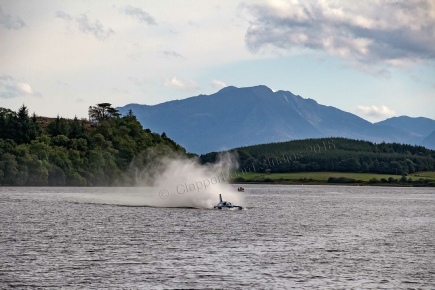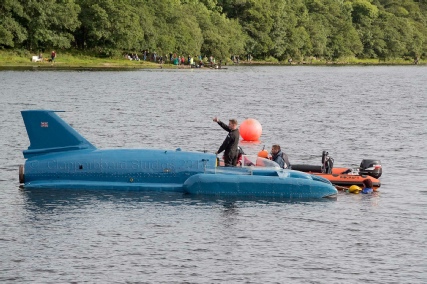 BLUEBIRD coming back up Loch Fad August 2018.
Everyone joins in and claps and cheers Stew.
That was just unbelievable to watch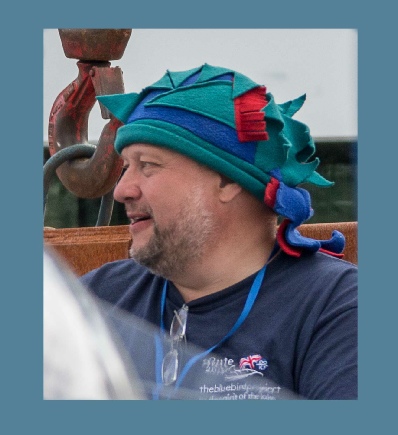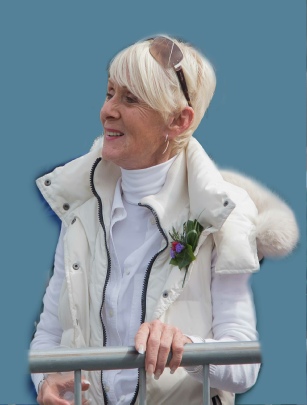 Bluebird K7 Project, team leader Bill Smith
Gina Campbell, daughter of the late Donald Campbell.
She came to Loch Fad to support Bill and his team and to see her fathers boat run again.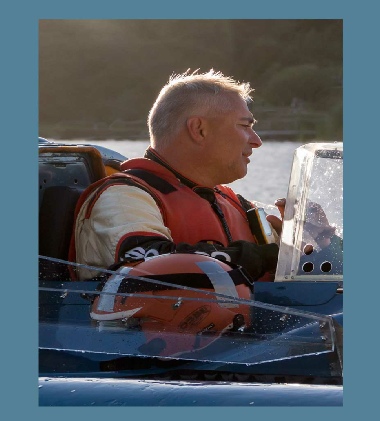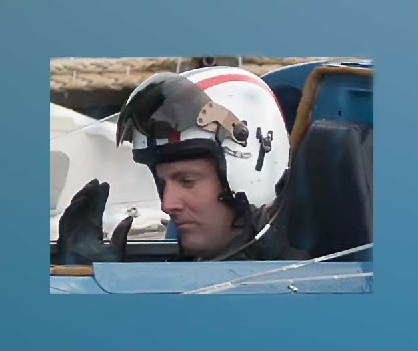 Ted Walsh. UK based hydroplane pilot.
Lead pilot for the Bluebird K7 project.
Stewart ( Stew ) Campbell, no relation to Donald Campbell. Formerly Royal Air Force aerobatic team, The Red Arrows.
Stew is Ted's understudy pilot.
No aerobatics in Bluebird please Stew.
7th. August and it's almost 6 o'clock in the evening and the sun casts a glow over the loch.
The team have worked their magic and the replacement canopy has been fitted.
Stew has had his safety briefing, ( and hopefully has promised not do a Ted and loose this canopy )
Our anticipation and excitement is mounting.
Loch Fad, Isle of Bute, Scotland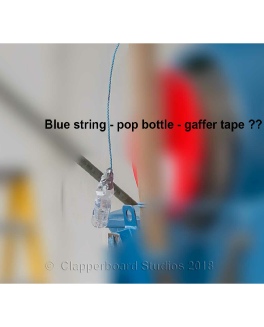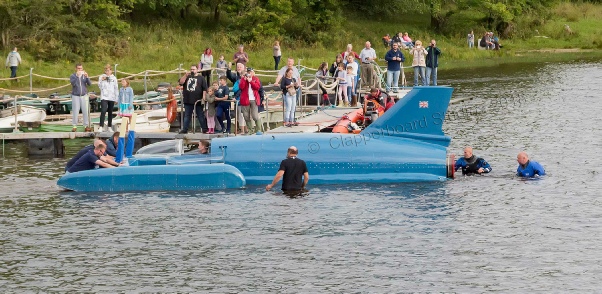 The team launch Bluebird.
It's nice to see the people watching, I would say quite a lot of them are under 50 and would not have been born when Donald Campbell had his fatal accident in Bluebird.
It just shows how this stunning icon can still pull the crowds.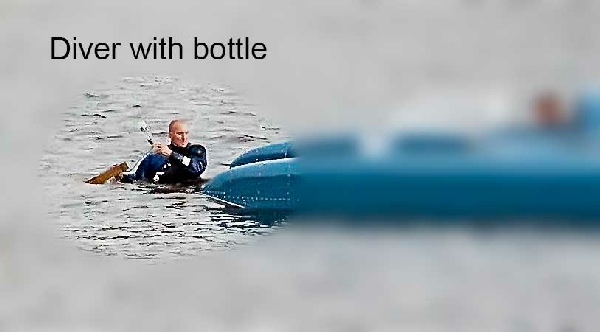 I love their attention to detail, even the string is blue.
But what is the pop bottle for ??
So that's what the pop bottle is for.
It floats and it helps the diver locate the back end of the trailer once the boat has floated off.
Simple but very affective.
Dam clever this team.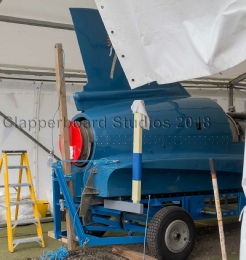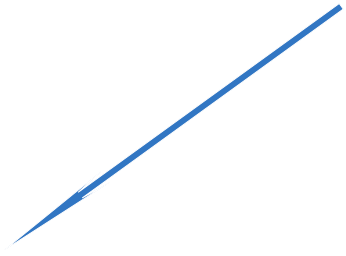 The extreme heat making the moors a tinderbox of late means steam trains will not be running, thus our Rail Track project is on temporary hold. No steam trains for the time being, so what now:
Bluebird has been restored !! And they're going to test her out in Scotland, Loch Fad on the Isle of Bute to be precise.
Donald Campbell's fatal crash in 1967, on lake Coniston. He was trying to take the world water speed record to over 300 mph.
( I do remember seeing the horrific photos on the tv )
Wow that's over 50 years ago and its been restored! That is a must see. ( very BIG tick )
Scotland, ( tick ) always a yes from us.
Preparations:
Check route planner, 200 miles plus.
Accommodation - There is only one campsite on Isle of Bute, have booked the last space ( tick )
Camera gear, checked ( tick )
Scotland and it's August, (help)
The midge season will be in full swing, and down by the waters edge. ..... If you are not aware the Scottish midge is only a very small insect, but the most evil little bugger known to man, and boy do they love me.
Insect repellent, antihistamine cream, antihistamine tablets, hat with net, (tick )
Monday 6th August 2018.
We set our satnav for Wemyss Bay and the CalMac Ferry to Rothesay—Isle of Bute, Scotland.
We caught the last ferry of the day. Emily ( our trusty satnav directed us to Butes only campsite, via Sepentine road, ( 13 hairpins and very tight they are too ). I remember the campsites website saying DO NOT USE the Sepentine road, they're not wrong. We made it ok, that's because we have an ace compact go anywhere camper van.
Tuesday 7th. August 2018.
Rothesay harbour to meet up with a friend we hadn't seen for almost 20 years, he had sailed over to Bute on his yacht.
Time to find Rothesay Academy for parking ( what, no one collecting money for parking?) Thank you Academy.
We gather up our camera equipment and prepare for the 3/4 mile walk down the rough track to Loch Fad and Bluebird.
( complete with waterproof jackets as the sky looked like it may give us a shower or two ).
We were greeted by people coming back up the track with, " Hello, hello ", ( in Scottish accents )
The atmosphere had started. One kind lady told us that the team had a problem, Bluebirds canopy had come off and a part was lost in the loch and that there would be no runs today.
We thanked her for the information, but no way were we going to turn back.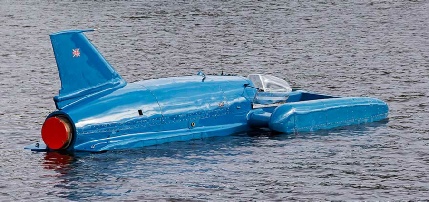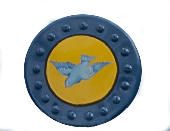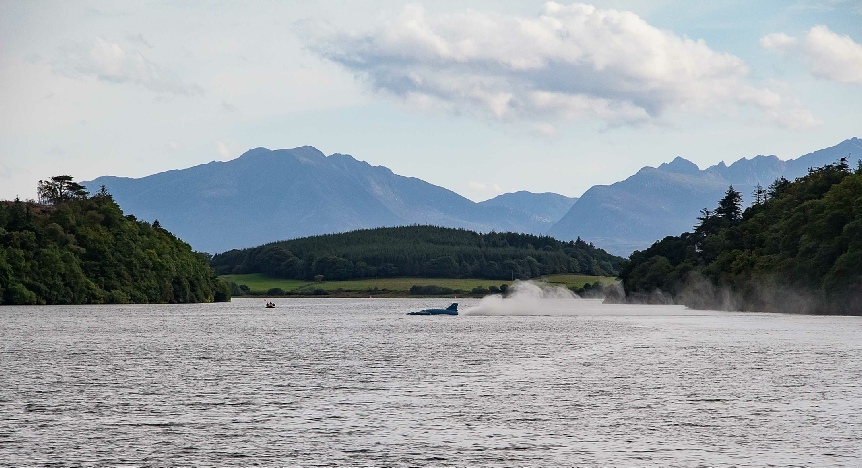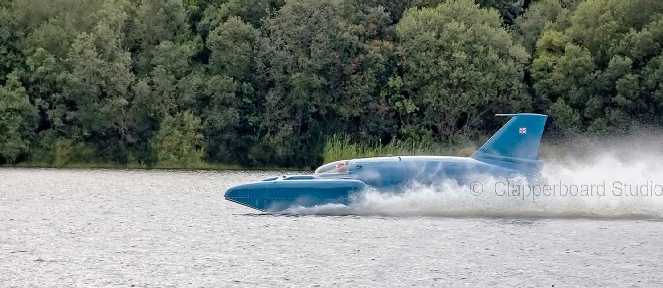 Bluebird roars off down the loch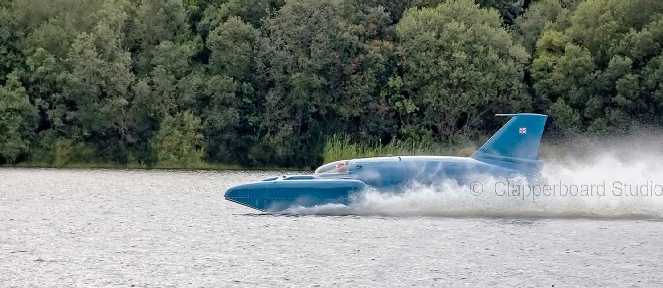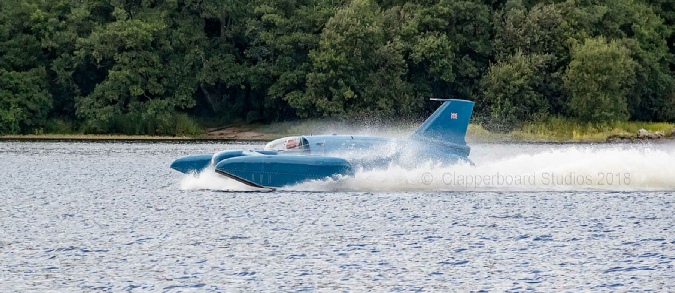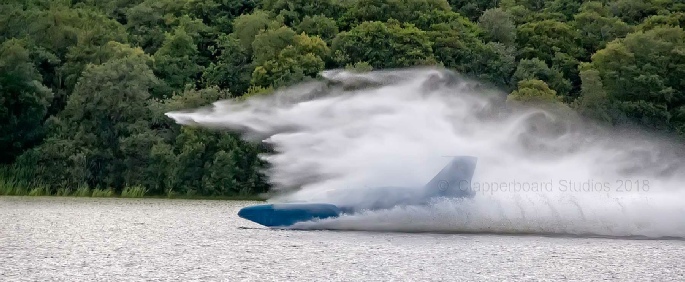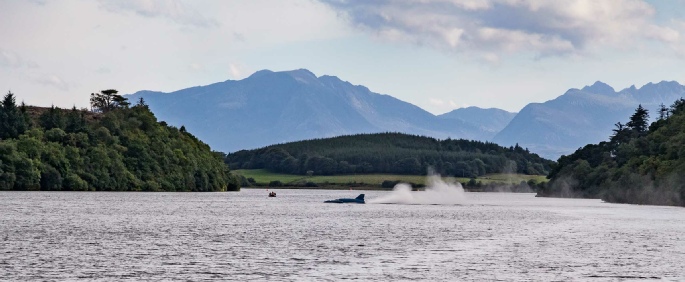 And breathe, she's safe and at the end of the loch
Preparations for Ted's next run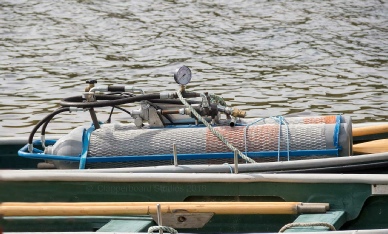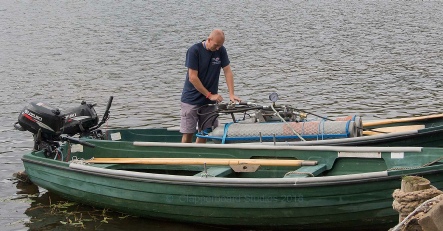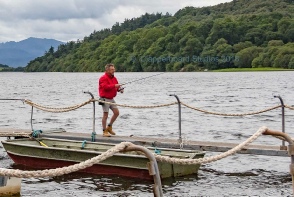 Reporter for The One Show, Andy Kershaw.
Trying to catch fish for his supper.
Andy there is a very good fish and chip shop in Rothesay.
We went there late last night, then took our supper back to our friends yacht, and chatted about the fantastic day we had watching Bluebird. Our son had left it too late to catch the last ferry, so he stayed the night on the very nice yacht.
Thanks Mike.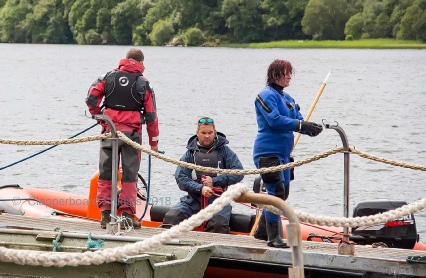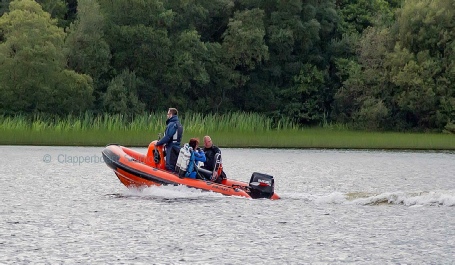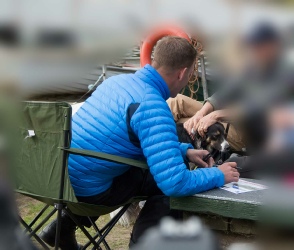 Stewart ( Stew ) Campbell signing an autograph.
Why not indeed, he along with Ted Walsh have just made history.
The starter kit being checked for pressure, looks like the cylinders have been refilled and are good to go.
In blue Sally Cartwright, chief safety diver for the team.
Rescue / support boat heading to the far end of the loch.